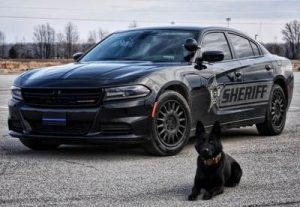 North Vernon, IN—Thursday,  Sergeant Cody Low with the Jennings County Sheriffs Office and his canine partner, Axel, conducted a traffic stop on Country Squire Blvd involving a Silver 2004 Pontiac Sunfire for a registration violation. Sgt. Low made contact with the driver, Jason Jackson, 35, of North Vernon, who was found to be driving on a suspended license. Sgt. Low deployed his canine partner Axel to conduct a free air sniff of the vehicle. Canine Axel gave a positive alert to the odor of Narcotics coming from inside the vehicle. A search of the vehicle yielded over 3.5 grams of methamphetamine, four syringes, and paraphernalia. The passenger, Johnny Zolton,65, of North Vernon, was also taken into custody on drug charges.
Johnny Zolton was charged with Possession of Methamphetamine and Possession of Paraphernalia.
Jason Jackson was charged with Possession of Methamphetamine, Possession of Paraphernalia, Possession of Syringe, and Driving While Suspended Prior.