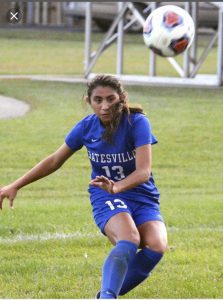 Officials of Indy Premier Soccer Club (Indy Premier) announced on Monday, August 5, 2019 its second team, the U17 Girls Elite 2003 team has qualified for the US Soccer 2019-20 National League.  Denise Davalos of Batesville (Batesville High School), along with fifteen other girls from Columbus, Greenfield, Mt. Vernon, Noblesville, Fishers, Carmel and Westfield are part of only the fourth team in history from Indiana to make the US Soccer National League.
Indy Premier Coach Kenrick Ramirez commented, "Denise has been a key contributor and has continued to work hard over the past couple years to help her team to this historic opportunity and the chance to compete with the other top teams in the country and continue their efforts towards winning a National Championship.  Their dedication, commitment and desire for improvement has helped them to be recognized by US Soccer," commented Ramirez, who coached his team to its fifth consecutive State Cup Championship in May of 2019.
Thirty-two teams from across the country earn their spots in the National League based on their proven record of accomplishment of success in US Youth Soccer regional and national competitions, and are among the nation's best.  National League playing weekends are held in North Carolina, Florida and Nevada between December and March each year.  Hundreds of college scouts usually attend each National League weekend as a significant opportunity for the nation's collegiate and National Team coaches to see National League players in an environment of meaningful play, citing the competitive level of each game as every team has to earn their spot in the competition, regardless of club affiliation or location.
Indy Premier is recognized as one of the top soccer clubs in Indiana and will generally field travel teams (Boys and Girls U10-U19) that participate in the Indiana State League, Midwest Conference Great Lakes Conference, and now National League as well as various programs for boys and girls U2-U19, adults and a semi-pro team.  Coach Ramirez noted, "Indy Premier has been fortunate to work with a number of kids in different age groups from the Batesville area over the past few years.  We are always interested, no matter what their ages, in helping kids develop their soccer skills."
Anyone interested in learning more about Indy Premier and its programs should contact Kenrick Ramirez at kenrick.ramirez@indypremiersc.org.