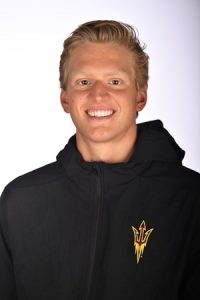 Former Bright and Sunman resident and Arizona State Swimming standout, Grant House will be competing Tuesday Night, August 6th, at The Pan American Games on ESPN in The 200 Freestyle event.
Grant is the son of former East Central AquaTrojan Swimming Coaches and East Central Athletic Hall of Famers Ray and Sue House.
This year, House has racked up five podium finishes through three meets in the 200 freestyle (3) and 200 IM (2), including a second place finish out of 48 competitors at the Indiana Invitational. House has also raced to three NCAA B cuts so far in the 200 IM, 200 freestyle and 200 breast. His time in the 200 freestyle at the Indiana Invite is currently the seventh-fastest time in Division I swimming.
Courtesy of Ray House and ASU.