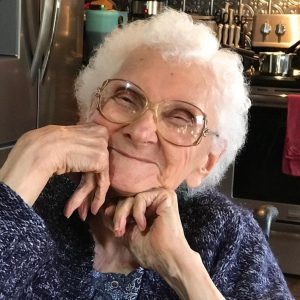 Mrs. Alice Jean (Burris) Walston, age 84, of Vevay, Indiana, entered this life on August 15, 1934, in Indianapolis, Indiana. She was the loving daughter of the late, Frank Herbert and Sarah Alice (Copeland) Burris. She was raised in Aurora, Indiana where she attended Aurora High School. Alice was united in marriage on February 8, 1952, in Aurora, Indiana, to the love of her life, Halbert Lawrence Walston. This happy union was blessed with six children, Vanessa, Valerie, Mae, Michael, Dolly and Amy. Alice and Halbert shared 64 years of marriage together until he passed away on March 26, 2016. Alice was employed as a clerk for Unwiller Hardware Store in Vevay, Indiana, for two years. In 1985, Alice was employed as a qualified nursing assistant for the Swiss Villa Nursing & Rehabilitation Center in Vevay, Indiana, retiring in 1996, after 11 years of service. She was a member of the Quercus Grove United Methodist Church in Quercus Grove, Indiana. Alice and Halbert resided in the Patriot community for several years and for 34 years in the Vevay community. Alice was a wonderful homemaker her entire life and enjoyed reading her Bible and working word search puzzles. Most of all, Alice loved spending time with her precious family, especially her grandchildren and great-grandchildren. She demonstrated the love of Jesus Christ for 84 years and is now apart from the brokenness of her body and delighting in the glorious reunion and receiving the reward for being God's good and faithful servant. Alice entered into the peace of presence with her Lord and Savior, Jesus Christ surrounded by her family at 2:20 p.m., Sunday, August 4, 2019, at the Majestic Care of Avon in Avon, Indiana. "My arms around you."
Alice will be deeply missed by her children, Vanessa Ritchie and her husband, Rocky of Camby, IN, Valerie Sloan of Rising Sun, IN, Mae O'Day of Roanoke, VA, Michael "Mike" Walston and his wife, Bonnie of Roanoke, VA and Amy Peelman and her husband, Jeff of East Enterprise, IN; her grandchildren, Halbert Walston, Ken (Monica) Ritchie, Robert (Kayla) Ritchie, Alyssa Hatcher, Joey Freeman, Tonja (Michael) Walston, Jason (Sarah) Griggs, Rodney (Adria) Griggs, Reed (Brooke) Watkins, Jerrel Watkins, Chelsea (Justin) Reagan and Richie Lay; her great-grandchildren, John, Michaela, Allan, Dominic, Miles, Rosalie, Brady, Ali, Kayleigh, Brooklyn, Kyler, Kambrie, Michael, Nathaniel, Joe, Gabe, Abigail, Adam, Aiden and Amelia and her several nieces and nephews.
She was preceded in death by her parents, Frank Herbert and Sarah Alice (Copeland) Burris; her husband, Halbert Lawrence Walston; her daughter, Dolly Ruth Watkins; her grandson, Adam Ritchie; her granddaughter, LaDonna Hatcher; her great-granddaughter, Victoria Griggs; her sons-in-law, Jeffrey Carroll "Jeff" Sloan and Robert O'Day; her brothers, Glenn George, Frank Jerome, Jack Lawrence, Joe and James Howard "Jimmy" Burris and her sister, Sylvia Ann Goff.
Funeral services will be conducted Friday, August 9, 2019, at 1:00 p.m., by Pastor Ken Ritchie, at the Haskell & Morrison Funeral Home, 208 Ferry Street, Vevay, Indiana 47043.
Interment will follow in the Eastview Cemetery, Patriot, Indiana.
Friends may call 5:00 p.m. – 8:00 p.m., Thursday, August 8, 2019, at the Haskell & Morrison Funeral Home, 208 Ferry Street, Vevay, Indiana 47043.
Memorial contributions may be made to the Alzheimer's Association. Cards are available at the funeral home or online at www.haskellandmorrison.com