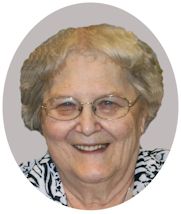 Sr. Justin Louise Stiker, age 94 of the Sisters of St. Francis in Oldenburg, died Tuesday, July 23, 2019 at the convent. Born April 29, 1925 in Indianapolis, Indianapolis, she is the daughter of Louise (Mann) and Justin Stiker, the second of four children.
"Let the little ones come to me" was the common thread woven throughout Sr. Justin Louise's life.  As a young student at Holy Name School in Beech Grove, Indiana, she met the Franciscans and Sr. Donald Fischesser made a lasting impression upon Justin Louise as her first grade teacher and she knew she wanted to be just like her and teach the little ones.
Following graduation from Immaculate Conception Academy in Oldenburg, Justin Louise went on to graduate from Marian University and began her teaching ministry in Princeton, Indiana, as well as Streator, Illinois and Shelbyville, Indiana.  Although teaching was her dream, as years the passed she found herself increasingly nervous and anxious in the classroom environment and returned to the Motherhouse.  In 1985 she was diagnosed with Panic Disorder and after working through years of therapy, Justin Louise regained her independence and returned to teaching and tutoring the little ones she so treasured as she taught at Bedford, Indiana until her retirement.
When interviewed about her life, Justin Louise noted, "I have learned to speak up and stand up for myself.  I know what I enjoy, and I plan to continue being true to myself.  I get up in the morning feeling good, and I thank God for another day – and thank Him for all whom have supported me along my life's journey."
Sr. Justin Louise is survived by her brothers Robert and Joseph Stiker, both of Indianapolis. She is preceded in death by her parents and her eldest brother Eugene Stiker. Visitation is Tuesday, July 30th from 1-3 p.m. in the convent chapel. Funeral services follow at 3 p.m. with Rev. Neri Greskoviak, O.F.M. officiating followed by burial in the convent cemetery. Memorials may be made to the Sisters of St. Francis, P.O. Box 100, Oldenburg, Indiana, 47036 (www.OldenburgFranciscans.org). For online condolences go to www.weigelfh.com.