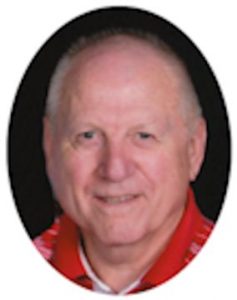 Robert C. Heidlage, age 75 of Batesville, passed away on July 25, 2019 at The Waters of Batesville.  Bob was born to Carl and Barbara (Nee: Kerker) Heidlage on June 25, 1944 in Batesville, the eldest of three children.  He married Carla Barcus September 19, 1970 in Greensburg, Indiana.
Bob was a member of St. Louis Catholic Church and was a 1962 graduate of Batesville High School. Bob served in the U.S. Navy for 4 years during the Vietnam War and was a member of the Prell-Bland American Legion Post #271.  He was a Batesville City Policeman in the Early 1970's. "Blacksnake", as he was known while driving, drove a truck and chauffeured for Hillenbrand Industries for 33 years. He was a big fan of Elvis Presley and Charlie Pride and Sunday morning concerts over breakfast were a weekly event.  Playing cards and reminiscing with his buddies over a few cold beers was a favorite pastime.  In retirement, Bob enjoyed volunteering at the Food Pantry, watching old westerns in between naps, and attending his grandchildren's many sporting events.
Bob is survived by his wife, Carla; sisters Sue (Wayne) Stearns of New Albany, Indiana, Becky (Bill) Mitchell of Lexington Park, Maryland; sons Robert C. II (Julia), Jeffery (Carol) and daughter Jill Belter, all of Batesville, and stepson Steven (Patty) Griffin of Byhalia, Mississippi, in addition to nine grandchildren and one great-grandchild.
Visitation is Monday, July 29 from 9:00 a.m. to 12:00 p.m. at the Weigel Funeral Home followed by the Mass of Christian Burial at 12:30 p.m. at St. Louis Catholic Church.  Burial will be in the church cemetery with military graveside rites conducted by the Prell-Bland American Legion Post #271 and the Ripley County V.F.W. Post #3183.  Memorial contributions may be made to The Salvation Army or Batesville Food Pantry.