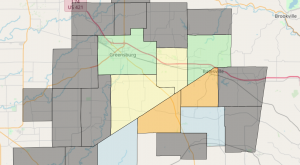 Greensburg, IN—
UPDATE: A representative with Decatur County REMC has confirmed that power has been restored to all customers.  This was not weather-related according to the source.  They stated that a fault occurred inside the substation at New Point.
UPDATE: There are now
Currently, there are 518 Decatur County REMC customers throughout Decatur, Ripley, Jennings, and Franklin Counties without power.  The message from Decatur County REMC is that crews are currently working on the issue but there is no estimated time for restoration.