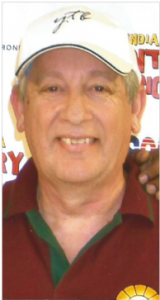 Kenneth James Collins, 66 of Hanahan, South Carolina passed away peacefully in his home on July 8, 2019, after a courageous battle with neuroendocrine cancer.  He was born July 21, 1952, in Batesville, Indiana to Earnest James Collins and Elizabeth Yorn Collins.  A graduate of Sunman High School, Ken served in the US Army from 1971 to 1973.  He was an electrician by trade but could build or repair just about anything.  He enjoyed spending time with his family, the beach, fishing and playing poker every chance he got.
Besides his parents, he is survived by his wife Rhonda Sartain Collins to whom he married on May 5, 2002, his son Stacey J. Collins (Aimee), stepson Jared D. Knipp, stepdaughter Amanda N. Harrison (Andrew), his best buddy and his favorite softball players Drew and Ashlyn Harrison, both of whom meant the world to him.  Also surviving are his sisters Karen Fryman (Ralph) of Vermont, Kathryn Jewell (Gary), Kristine Daulton (Wayne), Kimberly Stewart (Rocky) and brother Kevin Collins (Connie) all of Batesville, Indiana; as well as many nieces, nephews, great-nieces and nephews, aunts, uncles and cousins.
For those who wish to offer their condolences, they may do so from 10 AM until the start of the Memorial Services at 10:30 AM on Saturday, July 20th, at the Berean Baptist Church located at 364 Six Pine Ranch Road, Batesville, Indiana.