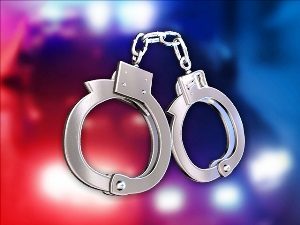 Columbus, IN—A Columbus man was arrested on several charges Monday afternoon after he reportedly fled on a motorcycle from a CPD officer. At approximately 4:30 p.m., a CPD officer attempted to stop Jayden M. Campbell, 20, of Columbus near State Street and Brooks Street. Campbell increased his motorcycle's speed and disregarded a nearby stop sign when the officer activated his police car's emergency lights.
A short time later, the officer located Campbell's wrecked motorcycle near Fodrea Elementary School in an alley near Brooks Street and Kentucky Avenue. During a search of the motorcycle and property left by Campbell, the officers located a loaded handgun with the serial number removed as well as methamphetamine.
Campbell was located a short time later outside of a residence on South Hinman Street where he was taken into custody. He was remanded to the Bartholomew County Jail and he is now charged with Possession of Meth, Carrying a Handgun without a License on School Property, Resisting Law Enforcement, and Leaving the Scene of an Accident.