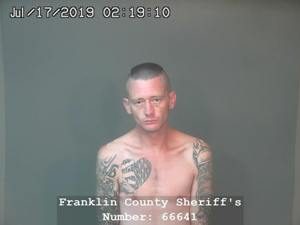 Brookville, IN—Tuesday, officers with the Brookville Police Department received a complaint involving the theft and fraudulent use of a credit card by an unknown individual.
During the investigation, officers discovered David William Poe, of Miamitown, Ohio, had used the stolen credit card at several local retail locations and ATM machines.
Officer's located David Poe and conducted an investigative interview. During this time with David Poe, he was allegedly found to be in possession of a crystalline substance identified to be Methamphetamine and a Hypodermic Syringe.
Poe was immediately taken into custody by the investigating officers and was lodged in the Franklin County Security Center in lieu of bond. Poe was booked on the charges of theft, possession of methamphetamine, and possession of a syringe.