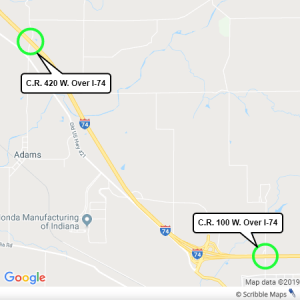 Decatur and Dearborn Counties—The bridges over I-74 on C.R. 420 W. and C.R. 100 W. in Decatur County are expected to reopen by end of day on Friday, July 19, following bridge deck overlay projects that began in May.
Lane closures will be in effect at both bridges in the coming weeks while crews complete approach milling and paving, and installation of permanent pavement markings.
Work began on St. Peter's Road over I-74 in Dearborn County earlier this month and is expected to be completed by October 31, 2019.
All three bridges are part of a $1 million bridge rehabilitation project that was awarded to Rohe Asphalt earlier this year.