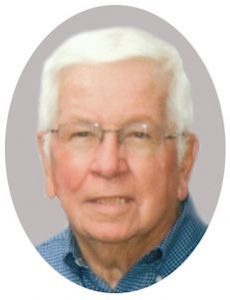 Edward E. Goble, age 81 of Batesville, died Monday, July 15, 2019 at Our Hospice of South Central Indiana in Columbus.  Born May 17, 1938 in Aurora, Indiana, he was the son of Elizabeth (Nee: Resing) and Bernard Goble.  He married Clara Fledderman May 3, 1958 at St. Louis Church.  After serving in the army, he became an insurance broker as well as doing some teaching and serving as an insurance consultant for the Indiana Department of Insurance.  He was a member of St. Louis Church, The Prell-Bland American Legion Post #271 and the Batesville Knights of Columbus Council #1461.
Ed had three passions. First was his family.  A devout family man, spending time with them was time he treasured.  Secondly, he thoroughly enjoyed the outdoors.  An avid fisherman, deer and turkey hunter, he proudly taught his grandchildren to fish as well.  Thirdly, he was civic minded.  Ed served ten counties during his 24 years as a state legislator from 1970 – 1994, holding the position of majority whip and minority whip in addition to serving on numerous committees while in the state house.  He was a former member of the Batesville Fire Department, Community Mental Health Board of Directors, New Horizons Board of Directors and during his time in the state house, he was instrumental in the construction of State Road 129.
Ed also enjoyed many hobbies.  He coached his kids in softball and baseball, went gold panning with his brothers, followed I.U. basketball and the Colts and was a huge fan of IndyCar racing, having attended the Indianapolis 500 for years.  He liked to cook and was in charge of the Sunday brunch according to his family.  They also shared that he was a storyteller, joke teller and apparently had a huge sweet tooth.  They teased that all those years of traveling while in office, he knew where every Dairy Queen was in his district.
He is survived by his wife Clara; daughters Lee Ann Gibbs (Wayne) of Batesville, Indiana, Lori Lambert (Geoff) of Fishers, Indiana; brothers Louis Goble of Cincinnati, Richard (Sue) Goble of Lawrenceburg, Indiana and grandchildren, Dylan Gibbs, Colin Gibbs, Hayden Lambert and Greta Lambert.  In addition to his parents, he is also preceded in death by his son Larry Goble; sister Mary Goble and brothers Bernard (Buddy), George and Thomas Goble.
Visitation is Thursday, July 18th, from 4 – 7 p.m. at the Weigel Funeral Home.  Funeral services are 11 a.m. Friday, July 19th at St. Louis Church with Rev. Michael O'Mara officiating.  Burial will be in the church cemetery with military rites conducted by the Prell-Bland American Legion Post #271 and the Ripley County V.F.W. Post #3183.  The family requests memorials to the St. Louis Cemetery Fund or the Ed Goble Memorial Fund (c/o Ripley County Community Foundation).