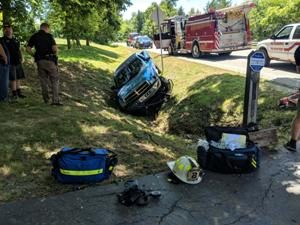 Metamora, IN—On Saturday, deputies with the Franklin County Sheriff's Department, responded to U.S. 52, on a report of a personal injury accident.  Upon arrival, deputies determined that the accident involved one vehicle.
Deputies discovered that a 1999 Dodge Ram pick-up truck was operated by William J. Stout Jr., age 56 of Laurel.  Stout told Deputies that he was traveling westbound on U.S. 52 when he went to take a drink of his soda pop.  As he took a drink, Stout lost control of his vehicle, causing the vehicle to travel off of the north side of the roadway and into a ditch.  The vehicle continued along the ditch until striking a culvert.
Stout was transported by Cedar Grove E.M.S. to Rush Memorial Hospital in Rushville, for treatment of minor injuries.