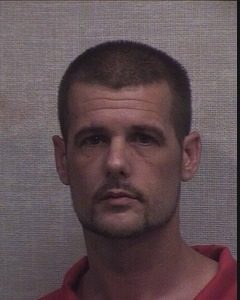 Seymour, IN—Wednesday, the Indiana State Police responded to a motorcycle fire on I-65 Southbound near the 51-mile marker in Jackson County which resulted in the arrest of a Marion County, Indiana man.
The investigation by troopers determined that Jerry Ray Jones, age 36, was operating a Suzuki motorcycle southbound on I-65 near the 51-mile marker when the motorcycle became disabled.  Jones pulled the motorcycle into the I-65 Southbound Scales and began to work on it.  At some point, the motorcycle caught fire.  Troopers quickly arrived on scene and did not locate Jones.  Workers in the area told the troopers that Jones left the area and began walking westbound across a field.
Troopers soon located Jones on County Road 1000 East, just north of Seymour.  Upon identifying him, he was found to be wanted on a warrant for possession of a syringe and an additional warrant for a parole violation.  During a search of the bag he was carrying, troopers located a loaded handgun, approximately 120 grams of suspected methamphetamine, suspected Xanax, syringes, and approximately $1,600 in cash.
Jerry Jones was arrested on felony charges of Dealing Methamphetamine, Possession of Methamphetamine, Possession of a Firearm by a Felon, Possession of Controlled Substance, and Possession of a Syringe.  He was also arrested on a misdemeanor charge of Driving While Suspended.  Jones was transported to the Jackson County Jail where he was incarcerated pending his initial court appearance in the Jackson County Circuit Court.