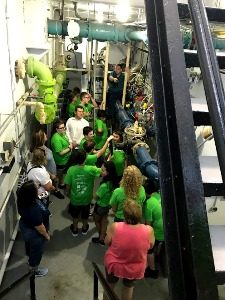 Batesville, IN—Students from Ripley County received hands-on experience in the field of cybersecurity through the Air Force Association's CyberPatriot Camp held for middle and high school students interested in technology. Hosted by Genesis: Pathways to Success at Jac-Cen-Del High School, the camp provided essential knowledge in cybersecurity, computer networking and security, and information technology.
The AFA CyberPatriot curriculum provides a deeper look into standard computer programming lessons, and students are able to reinforce this information through challenges and competitions. During the camp, students worked to defend their computers from cyber-attacks while strengthening their responsiveness and problem-solving skills. Along with the challenges and competitions, students were also able to learn about career options in the field of cybersecurity and the postsecondary training required to enter this career path.
An off-site tour and information session at Muscatatuck Urban Training Center showed students the facilities and operations that are supported by their cybersecurity staff, and students were able to interact with the experienced employees. Simulations of infrastructure failure, wartime security, and penitentiary security were presented, and representatives strongly emphasized the need for bright students in the cyber security field.  Students learned about the Cyber Academy at the training center, which is offered by Ivy Tech Community College.