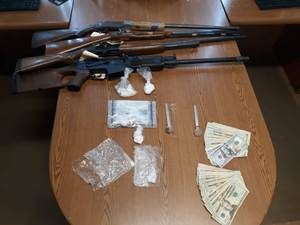 North Vernon, IN—On Tuesday, deputies with the Jennings County Sheriff's Office went serve an arrest Warrant on John Boyd, 54, of North Vernon.
Upon arrival, deputies made contact with several subjects and located Mr. Boyd. According to the deputies, they observed illegal substances in plain view. Deputies then applied for and granted a search warrant for the home.
Deputies located close to 90 Grams of Methamphetamine, four firearms, and numerous items of Drug Paraphernalia. Deputies also seized over $2200.
John Boyd was charged with Dealing Methamphetamine Possession of more than 28 Grams of Methamphetamine, Possession of a Firearm by a Serious Violent Felon, Possession of a Syringe, Possession of a Controlled Substance, Jennings County Warrant, and a Marion County Warrant.
Rodney Mead and Hope Tarpley were charged with Possession of Methamphetamine over 5 grams, and Possession of a Syringe,
Heather Cheesebrew and Tamara Ross were charged with Possession of Methamphetamine and Possession of Paraphernalia