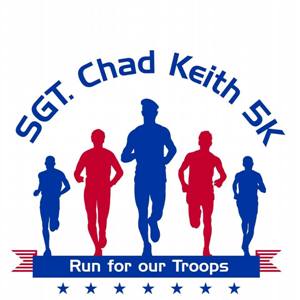 Batesville, IN—BATESVILLE, Ind. – Pre-registration is open for the 3rd Annual SGT. Chad Keith 5K on Saturday, August 10 at Liberty Park. Sgt. Keith was made the ultimate sacrifice on July 7, 2003, in Baghdad, Iraq. The 2000 BHS graduate served in the 2-235th Infantry, Company D. He is buried at Arlington National Cemetery.
"I've been honored to help. Such a little thing in the scope of what the family lost in Chad's sacrifice. I'm happy to help keep his legacy alive," said Sarah Pulskamp, a volunteer of the SGT Chad Keith 5K.
Pre-registration is $25 per person and includes a commemorative t-shirt and a dog tag. Race Day Registration will be $30. Proceeds will benefit  2 scholarship opportunities for Batesville students and Mission 22. The run starts at 9 a.m. on August 11. To register, click here.  Want to get involved or make a donation? Visit the Sgt. Chad Keith Facebook page or call Batesville City Hall at (812) 933-6116.