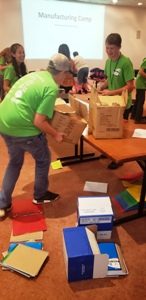 Batesville, IN— Genesis: Pathways to Success sponsored a free camp that immersed Ripley County seventh and eighth graders into the field of manufacturing. The camp consisted of tours of local organizations including Batesville Tool & Die, Batesville Casket, Crum Trucking, Hillenbrand Inc., Hillrom, Ivy Tech Community College, Thrive Market, and Wood-Mizer. Each organization designed an activity to provide students fun, hands-on, examples of its operations and career opportunities.
Each day, the seventh and eighth graders were provided lunch at their designated locations and had an opportunity to talk to employees. Students visited Hillenbrand, Inc., which included Batesville President, Chris Trainor, who gave a presentation highlighting the diversity of jobs in manufacturing that range from welding to human resources. Trainor focused on how such job opportunities are "right here in their community" and encouraged students to explore their options for the future. The eighth graders toured the Doll Plant, while the seventh graders participated in an activity that taught them the basics of an assembly line through acting out the different roles present in a manufacturing plant. Hillenbrand partnered with Project T3, Totes for Tots and Teens, to assemble nearly 1,000 backpacks filled with school supplies that will go to children removed from their homes this coming school year.
Other notable moments throughout the week included participating in the Egg Drop Challenge at Batesville Tool & Die, which challenged students to be innovative while working on a budget. Students also experienced the ins and outs of an assembly line with Legos at Hillrom. They got a closer look at the logistics industry while viewing a semi-truck at Crum Trucking. Wood-Mizer provided students the opportunity to assemble a crucial part of a sawmill and participate in team building exercises. Ivy Tech gave a tour of the machining program and students experienced virtual welding. Students then spent a day learning about Thrive Market's commitment to the environment.  Students learned how a local e-grocery store is able to assemble and ship thousands of grocery orders and be a zero waste facility.