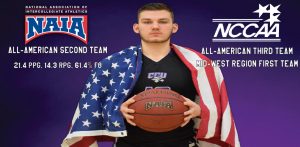 Former Batesville Bulldog and Cincinnati Christian University Eagle standout Blake Walsman has signed a professional contract for Club Hurunamenn, located near the Iceland capital of Reykjavik.
Walsman commented "This was a dream of mine since as long as I can remember, but I never thought it would actually become a reality. I am beyond blessed and grateful for this opportunity. I am ready to get to work and contribute in any way I can for my team."
Walsman was an NAIA All-American and played all four of his collegiate seasons with The Eagles. While he was there, he became the all-time leading scorer with a total of 2,236 points, the all-time leading rebounder with a total of 1,431, and had the most double-doubles with 71.
Blake is represented by Oliver Hardman, the founder of OMH Sports Agency.
Courtesy of Batesville Bulldogs Coach Aaron Garrett, Cincinnati Christian University, and The NCCAA.