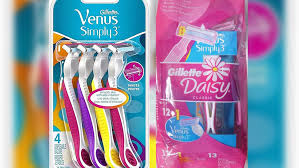 Nationwide—Gillette is recalling nearly 90,000 women's razors.
The company issued the recall Thursday for 4-packs of Venus Simply3 Disposable Razors and Daisy 12 + 1 Venus Simply3 Bonus Packs, because of misaligned razors. Gillette says these pose a higher risk of cuts during normal use.
Gillette says if you own either of these products you stop using it and contact the company to receive a postage-paid return label to send the razors back, and you'll receive a voucher for a free replacement.
So far, the company has only received one report of a consumer being cut while using a recalled razor.