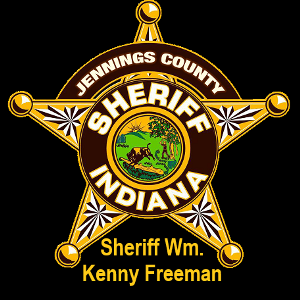 Update:
North Vernon, IN—Two subjects have been taken into custody by the Jennings County Sheriff's Office in reference to shots fired call.
Alex Mullikin (age 26 North Vernon), was taken into custody on Tuesday without incident after he was observed walking in the area.
David Eggerts (age 18 of North Vernon) was taken into custody in North Vernon after a short foot pursuit.
Eggerts was seen walking on Hoosier Street and after being given commands to stop by an officer, fled on foot. Canine Axle was deployed and was able to take Eggerts into custody.
During the arrest of Eggerts, a handgun that Eggerts was alleged to have pulled out during the foot pursuit, was found under a vehicle that Eggert was arrested by. Allegedly, The handgun was taken by Eggerts after he fled from the original scene and stole another vehicle in the area.
Original Story:
North Vernon, IN—Early Tuesday morning, Deputies with the Jennings County Sheriff's Department were dispatched to an address in Spencer Twp. in reference to shots being fired and a suspicious vehicle.
When Deputies arrived on scene they determined a vehicle that was parked in front of the address had been reported stolen from Medora, IN.
Multiple agencies quickly arrived on scene to assist in looking for the suspect. The suspect was thought to have left the scene prior to law enforcement arrival according to the report.
During the course of the investigation, Deputies report the homeowner came home and discovered the stolen vehicle in the middle of the roadway. The homeowner checked his house and property looking for the owner of the vehicle and eventually located a male subject hiding in his yard.
The male subject then allegedly opened fire on the homeowner with a small caliber firearm. The property owner returned fire at which time the suspect was reported to have fled. The investigation is ongoing. But the Sheriff's Department reports an arrest has been made in this case.