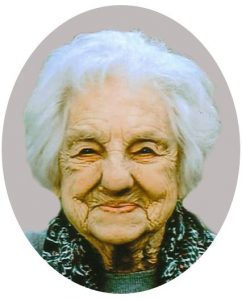 Mary E. Luhring, (Nee:  Weberding), 96 of Batesville, passed away on June 25th.
Mary was born on May 6, 1923 to Anthony and Frances Weberding.  On August 30, 1947 she married Mervin F. Luhring.  He preceded her in death.
Mary had 7 children, Sylvan (Ina) of Nebraska, Joe (Judy) of Batesville, Jack (Melinda) of Sunman Steve (Vickie) of Batesville, Cindy Herbert, Paula Steffey and Pam (Tuba) Narwold, all of Batesville.  Mary had 17 grandchildren, 24 great grandchildren and 1 great great grandchild.  She was preceded in death by her sister Ruth Hoff and brothers William, Charles and Robert Weberding.
Mary enjoyed sitting on her front porch, watching cars coming and going at Liberty Park.  Mary also loved to watch the squirrels and always made sure there was food for them.
She loved spending time with her grandchildren.
One of her favorite past times was sewing.  She made blankets for her grandchildren and these blankets are cherished to this day.
Mary worked for Batesville Casket for 23 years.  She was a member of the Sunman American Legion Auxiliary, Sunman Fireman's Auxiliary, St. Nicholas Catholic Church and St. Louis Parish.
Funeral visitation will be Friday, June 28th, from 4 – 7 p.m. at Weigel Funeral Home.  Mass of Christian Burial will be Saturday, June 29th at 10:00 a.m. at St. Nicholas Church, with burial following at St. Nicholas Cemetery.  Memorials may be made to the St. Nicholas Heritage Fund.