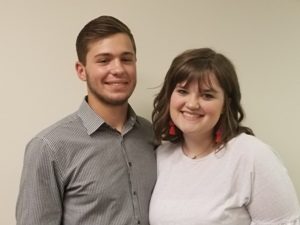 Brookville, IN—The United Way of Franklin County is pleased to announce two recipients of the 2019 Live United Scholarship.  Isaac Selm and Jenna Watterson, both recent graduates from Franklin County High School were awarded a total of $5,000 for tuition costs and fees.
The Live United scholarship recognizes individuals that have demonstrated a commitment to serving Franklin County by making a positive impact in the community through community service. Current high school seniors, GED graduates, and current post-secondary students of any age are eligible. The student must be a resident of Franklin County.
The United Way of Franklin County seeks to positively impact the lives of those in our community by assessing needs, uniting partner organizations, agencies and volunteers and devoting financial resources and efforts to the most critical needs.  For more information click here.