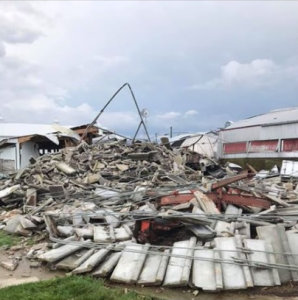 Batesville, IN—The weather was top of mind if you were planning outdoor activities over the weekend.  Heavy storms swept through the region Saturday evening with showers continuing through Sunday evening.
There were 8 confirmed tornadoes from the storm systems that swept through central and southeastern Indiana.  The two most severe were in Greene and Monroe Counties.  Most areas through central and southeastern Indiana had downed powerlines and trees from the storm system in addition to all the rain.
Some parts saw as much as 4 inches of rain over the weekend according to the National Weather Service meteorologist Kristen Cassidy.
On Sunday afternoon, officials with the NWS said the activity in Rush County was not confirmed but crews planned to survey the damage on Sunday afternoon or Monday. Rush County Emergency Management Agency received confirmed reports of damage from that area. No reports of any injuries, but there were approximately 12 Homes and over 30 Garages, Barns and Out Buildings damaged or destroyed as well as trees and power lines down throughout Southern and Eastern parts of the county.  Fraley and Schilling Trucking also reported damage to several of their trucks.
Investigators will also travel to Bartholomew County near Columbus, parts of Decatur County and Brown County to assess the damage in these areas to confirm whether tornadoes did touch down. Several residents on farm properties between Hartsville and Letts are reporting damage to barns, silos, and other structures throughout Decatur County.