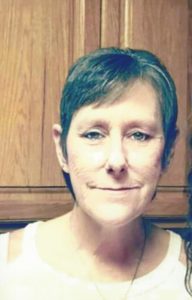 Penny S. Brickner, age 54 of Brookville, Indiana passed away Tuesday, June 11, 2019 in Batesville, Indiana. Daughter of Robert and Matilda (Seiter) Brickner.
Penny is survived by her mother Matilda Brickner of Mt Carmel, Indiana, daughters Sarah Berns of Delhi, Ohio and Tarah Lindner of Mt. Carmel. Grandmother of Michel Berns, Gabreal Lindner, Dakota Lindner and Sophia Berns. Sister of Johnny Brickner of Mt Carmel, Indiana.
Visitation will be Friday, June 14, 2019 from 5:00 P.M. until time of funeral services at 7:30 P.M. with Pastor Ronnie Wolf officiating all at Jackman Hensley Funeral Home.
Memorials may be directed to the family c/o the funeral home.