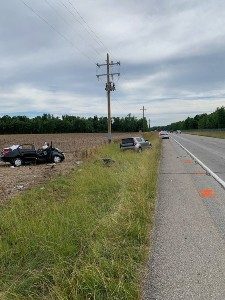 Versailles, IN—Friday afternoon, at approximately 3:30 pm an Indiana State Police responded to a report on an injury crash involving two vehicles on US 421 south of County Road 1050 South in Ripley County.
Troopers arrived to find a 2016 Kia Soul and a 2019 Mitsubishi Mirage in the east ditch of US 421.  The preliminary investigation shows that the Kia Soul, driven by Shannon Hubbard, was traveling southbound and was attempting to pass another vehicle.   The Mitsubishi Mirage, driven by Henry Finney of Madison, was traveling northbound and could not avoid a collision with the Kia Soul, which was in the northbound lane.
Finney was transported by ambulance, to King's Daughters' Hospital in Madison where he passed away from his injuries.  Hubbard was also transported by ambulance, to King's Daughters' Hospital and then transported by lifeline helicopter, to The University of Cincinnati Hospital.  Ms. Hubbard was in serious but stable condition.
It is believed that both drivers were wearing their seatbelts.  Drugs and or alcohol are not believed to be a contributing factor to the crash.  Improper passing and traveling at a high rate of speed are believed to be contributing factors to the crash.