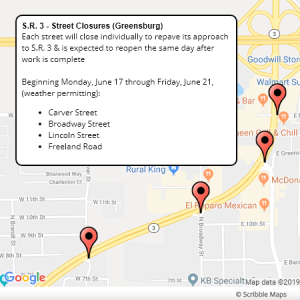 Greensburg, IN— Dave O'Mara Contractor Inc. will close multiple city streets in Greensburg next week to repave approaches to S.R. 3.
Intermittent closures are scheduled on Carver Street, Broadway Street, Lincoln Street, and Freeland Road at S.R. 3 throughout the week, beginning Monday, June 17, weather permitting.
Each street will be closed individually and is expected to reopen the same day after work is complete.