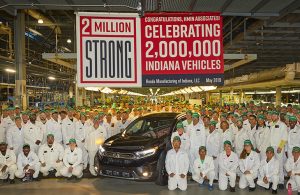 Greensburg, IN—Recently Honda of Greensburg produced the two millionth vehicle that was built in that plant. Indiana governor Eric Holcomb says the robust Indiana economy has produced a shortage of workers but this is no time to slow down.
The 2 millionth vehicle was a Crystal Black Pearl CR-V. It comes 10 years after the start of mass production at the Indiana facility. It is also fitting that Honda will mark its 40th anniversary of manufacturing products in North America in September of this year.
There are 2,500 workers in Greensburg that have the capacity to produce 250,000 vehicles per year.