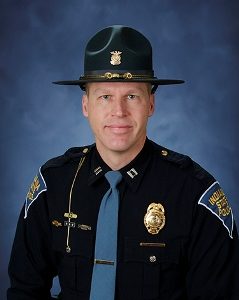 Versailles, IN—This past Friday, Indiana State Police Captain Anthony Scott graduated from the FBI National Academy in Quantico, Virginia.
Captain Scott said, "The FBI National Academy was a once in a lifetime opportunity to work with and learn from some of the best minds in law enforcement."As a graduate, Captain Scott enters into a select group made up of less than one percent of the country's law enforcement officers.
Scott began his law enforcement career in 1996 and patrolled Decatur County until he was promoted to Detective in 2004. In 2011, he was promoted to First Sergeant to serve as the District Investigative Commander at the Versailles District and in 2014 he was promoted to Lieutenant to serve as Commander of the Versailles Post. In November of 2014, Scott was promoted to Captain where he has served as the Commander of Area IV of the Indiana State Police which includes the Versailles and Sellersburg Districts.
Scott is a native of Rush County and currently resides in Decatur County with his wife and two children.