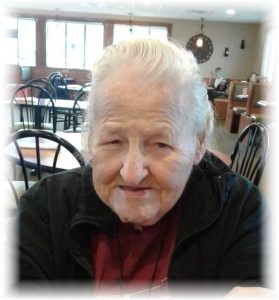 Carolyn "Connie" June Browder, age 85 of Greensburg, formerly of Batesville passed away on Monday, June 10, 2019 at Franciscan Health in Indianapolis.  The daughter of Lester & Marie (nee: Ashcraft) Moody was born in Batesville, Indiana on December 3, 1933.  She married Daniel Browder and he died July 3, 1999.
Connie, as she was known to most, worked as a nurse's aide in the Alzheimer's Unit at Heritage House of Greensburg before she retired.  The avid Cincinnati Reds fan liked to write and tell stories.  She thoroughly enjoyed when her family would come around to play music and listen together.  At age 80 she took up art.  She had a lot of drawings, paintings, floor plans and the like to show for it.  Her house always had pictures and works of art hanging and on display for all to see.  Connie also enjoyed food and liked to cook as well.  She taught all of her family how to be good cooks and especially loved her daughter-in-law's baked beans.  Her family lovingly jokes how she always ate her corn with a fork no matter how it was prepared.  Most of all Connie loved her family and treasured their time spent together.
She is survived by her children, Jena Hilliker, Janice Sams, James Browder, David Browder, Russell Browder, Jody Browder and Jerry Browder; 24 grandchildren; 34 great-grandchildren; and 6 great-great grandchildren, along with her brother Vernon Moody.
In addition to her parents, she was preceded in death by her three infant children, Dennis, Danny & Joyce Browder; and siblings, Elmore Franklin, Jesse Moody, Bob Moody, Cecil Moody Sr., Cordelia Hoegeman and Shirley Herbert.
Visitation will be Friday, June 14, 2019 from 4-8pm at Meyers Funeral Home, Batesville.  Funeral Services will be 1pm on Saturday, June 15th at Meyers Funeral Home.  Burial will follow in the Batesville Methodist Church Cemetery.
Memorials may be given to Meyers Funeral Home to assist with funeral expenses see www.meyersfuneralhomes.com.