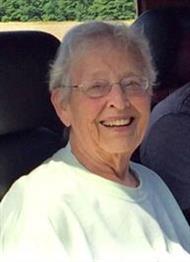 Joyce Ann Frondorf, 79, of Hutchinson, Kansas, passed away June 7, 2019 at Hospice House in Hutchinson surrounded by family.  Joyce was born to Stanley and Jean (Wright) Espelage on January 17, 1940 in Cincinnati, Ohio.  On June 28, 1958 Joyce married William Frondorf, Jr. in Cincinnati.
Joyce worked as a research assistant for the University of Cincinnati, and was a member of St. Peters Catholic Church.   She enjoyed sewing, reading, swimming and spending time with her family.
Joyce is preceded in death by her parents; her loving husband William;  son, Frank Frondorf; brother, Father Thomas Espelage and granddaughter Amanda Frondorf.
She is survived by her daughter Janine (Greg) Barnes of Sunman, sons, James (Mary Beth) Frondorf of Sunman, Robert (Toyla) Frondorf of Hutchinson, KS, and Kyle (Jill) Frondorf of Flower Mound, TX; daughter-in-law, Patricia Frondorf of Sunman; sisters, Mary Jane Espelage of Ohio, Nancy (David) Jasper of Ohio, Linda (Paul) Weckenbrock of Indiana, Anne Wiesner of Ohio, Jeannie Griffin of Ohio;  brothers, Stanley (Kathy) Espelage of Ohio; Harry (Sue) Espelage of Ohio, and Lawrence (Cordy) Espelage of Colorado; 12 grandchildren, Michelle (Paul), Alicia, Stephanie (Dan), Josh, Aaron, Kai, Adam, Jake, Michael, Brian (Lillie), Colin and Davis, and five great-grandchildren.
Mass of Christian Burial will be held at 10:30 a.m. on Thursday, June 13, 2019 at St. Peters Catholic Church, 1207 E. Road, Brookville, Indiana, with Father Vince Lampert officiating.  Visitation will be held on Wednesday, June 12, 2019 from 4:00 p.m. to 8:00 p.m. at Cook Rosenberger Funeral Home, 107 Vine Street, Sunman, Indiana. 47041.  Memorials can be directed to Cincinnati Children's Hospital or Leukemia and Lymphoma Society of Cincinnati.