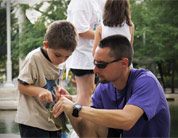 Indianapolis, In. — For the 14th year, the Indiana Department of Natural Resources will operate a Fishin' Pond during the Indiana State Fair. The Fishin' Pond is a free chance to learn about fishing for kids from 5 to 17-years-old.
Officials are looking for several volunteers to help August 2 through 18. The Pond has five volunteer stations and needs about 20 volunteers each 3-hour fishing session: Registration (2), Speaker (2), Fishing (12), Equipment (2), and Education (2). Volunteers get free admission to the Fair, free Fishing Pond T-shirt, and the opportunity to fish with kids for a few hours at the Pond. If you don't like touching worms, getting fishy, or standing in the sun, other volunteer needs are available.
In 2018, more than 3,000 kids fished at the Pond, and, for many of them, this was their first fishing experience. The program would not be such a success without the wonderful volunteers.