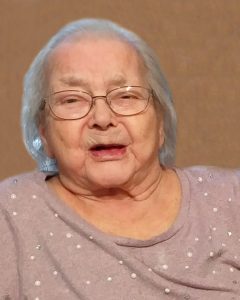 Mrs. Nellie Lee (Tague) Hamilton, age 89, of Bennington, Indiana, entered this life on July 9, 1929, in Muncie, Indiana. She was the loving daughter of the late, Rufus Walter and Alice Lillian (Roberts) Tague. She was raised in Dupont, Indiana and was a graduate of Oakland School in Madison, Indiana. On January 11, 1947, she was united in marriage to Charles Everett Hamilton at the Wirt Baptist Parsonage in Madison, Indiana. This happy union of 62 years was blessed with four sons, Rodger, Richard, Steve and Larry and two daughters, Joyce and Sara. She resided most of her life in Switzerland County and was a wonderful homemaker. She loved her vegetable garden, flower beds, painting, sewing and hummingbirds. Nellie passed away at 12:05 p.m., Friday, May 31, 2019, at The Waters of Clifty Falls in Madison, Indiana.
Nellie will be lovingly remembered by her children, Rodger Hamilton of Bennington, IN, Richard Hamilton and his wife: Anita of Bennington, IN, Steve Hamilton and his wife: Kathy of Milton, KY, Larry Hamilton of Edmonton, KY, Joyce Hamilton of Penrose, CO and Sara Smith of Madison, IN; her 12-grandchildren, 24-great-grandchildren and 9-great-great-grandchildren and her half-brother, Billy Joe Wren of Boise, ID.
She was preceded in death by her parents, Rufus Walter Tague, died February 19, 1960 and Alice Lillian (Roberts) Tague, died November 5, 1972; her husband, Charles Everett Hamilton, died January 12, 2009; her children, Vivian Kay Hamilton, died September 12, 1947, Ronald Allen Hamilton, died June 9, 1952 and Bryant Keith Hamilton, died June 17, 1968; her great-grandchildren, Jace Alexander Herring, died June 13, 2004 and Jorja Marie Pearl Herring, died September 22, 2006; her daughter-in-law, Carole Ann Hamilton, died October 9, 2014; her sisters, Ruby Alice Tague, died November 28, 1932, Carolyn E. Skirvin, died June 8, 2002, Dorothy A. Whisman, died February 28, 2005 and Edna Ruth Robertson, died August 2, 2007 and her half-brother, Robert Lincoln Tague, died February 1, 1991.
Graveside Services will be conducted Monday, June 3, 2019, at 11:00 a.m., by Bro. Cliff Hartley at the Pleasant Cemetery in Pleasant, Indiana.
Memorial contributions may be made to the Pleasant Cemetery Fund. Cards are available at the funeral home or online at www.haskellandmorrison.com