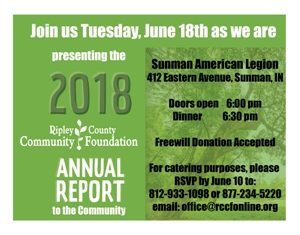 Sunman, In. — The Ripley County Community Foundation will present the 2019 Annual Report to the Community on Tuesday, June 18 at the Sunman American Legion. The free-will donation event begins at 6 p.m. and dinner will be served at 6:30 p.m.
During the first quarter of this year, the foundation awarded a total of $3,000 in $500 grants to the Batesville FFA, Batesville Fire Department, Ripley County Tourism Bureau, Southeastern Career Center, Summer Food for Kids of Batesville and the Tyson Community Foundation.
For catering purposes, please RSVP by June 10 by calling 812-933-1098 or 877-233-5220 or email [email protected].