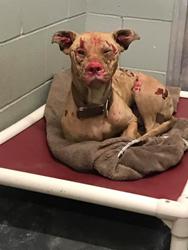 Shelby County, In. — Last November, a young pit bull named Justice was found in Shelby County with severe chemical burns. Justice has spent the last several months recovering and will soon be looking for a forever home.
Shelbyville/Shelby County Animal Shelter took ownership of the situation and the pit bull and began the campaign for "Justice." Shelter workers, with the help of the IndyVet Emergency & Specialty Hospital, nursed the dog back to health.
Justice will need eye surgery, but the procedure doesn't work he may need eye medicine for the remainder of his life.
Applications to adopt Justice will soon be posted on their Facebook page. The only requirements are that Justice is the only pet in the house and the family lives within 100 miles.
There is still a $10,000 reward to find those responsible for hurting Justice.
Information can be emailed to [email protected] or call 317-392-5127. Officials say ANY information could help solve this mystery.