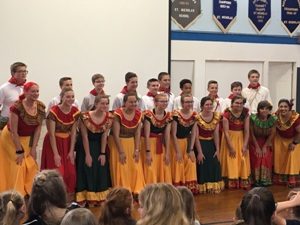 Sunman, In. — For the last 5 years, as part of the 8th-grade graduation ceremony, Mayra Hidalgo Adams and Laura Ault present the End of Year Spanish Dance with the 8th-grade Spanish class.  The dances are part of the Spanish curriculum to introduce the students to new cultures and genres of music while having fun.
Students perform three different genres from three different Spanish speaking countries and explain to the audience what they are and what country they are from.
The songs are choreographed and taught by Laura. Costumes, hair pieces and props are made by Mayra with the help of other volunteers in the community.