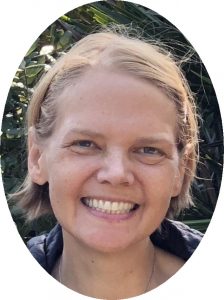 Sandra (Sandy) Teal, age 41 of Campton, Kentucky, died peacefully Friday, May 24, 2019 at her cabin home.  Born August 20, 1977 in Batesville, Indiana, she was the daughter of Robert and Jane Fussner.  She was a sister to Debbie Miller, Doug Fussner, Cindy Fussner and Beth Weingart.   She married Ian Teal on November 1, 2008.
Sandy grew up on the Fussner family farm in St. Peter, Indiana.  During Sandy's youth she attended St. Michael Catholic School and participated in basketball and 4-H.  Sandy graduated from the Immaculate Conception Academy then Indiana State University with a degree in Dietetics.  Sandy, a Diabetic Counselor, bettered the diets of many Hoosiers before moving to Kentucky after getting married.
In Kentucky, Sandy was an integral part of the local community in the Red River Gorge area.  With her husband, Ian, they developed tourism in the area by creating a cabin rental company and kayaking tours.  Sandy and Ian also created and supported philanthropic activities to better the local community.  Sandy was a board member of Giving in the Gorge, a non-profit supporting the Lee/Wolfe County, Kentucky homeless shelter and the Lee/Wolfe County Christmas Dinner.   Sandy was an active member of the Good Shepherd Catholic Church of Campton.
Sandy hosted countless family members and friends over weekends and holidays at Red River Gorge.  She was an avid hiker, rock climber and enjoyed traveling to new destinations, including the Holy Land, the Caribbean, and Haiti.  Aunt Sandy was a favorite of her nieces and nephews.  She always had a smile and enjoyed challenging youth to better themselves.  Sandy prayed the rosary often and will always be remembered and admired for her strong faith.
Visitation is Thursday, May 30th from 4 – 7 p.m. at the Weigel Funeral Home, with a rosary service at 3:45 p.m.   Funeral services are 10 a.m., Friday, May 31st at St. Peter Catholic Church, St. Peter Indiana.  Father Vince Lampert will be officiating and burial will follow at St. Peter's Cemetery
A memorial mass will be held at the Good Shepherd Catholic Church in Campton, Kentucky on Saturday, June 1st at 3 p.m. All are invited to a celebration of life reception following mass at 4:30 p.m. at the Senior Citizens Center (behind the old courthouse) three minutes from church in Campton.  For online condolences go to www.weigelfh.com.