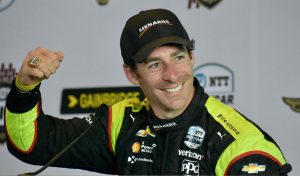 Speedway, Ind. — Despite concerns, the weather was not a factor in Sunday's 103rd running of The Indianapolis 500.  In the closing laps, it was Team Penske's Simon Pagenaud and Andretti Autosport's Alexander Rossi trading the lead, with Pagenaud taking the checkered flag.  The win is the first Indy 500 victory for the Frenchman, and the eighteenth for his boss, Roger Penske.
"It's pretty amazing.  It's a dream come true, a lifetime of trying to achieve this.  So I'm just speechless.  It's just incredible." said Pagenaud, who started from the pole position and now leads the season points race.
Runner-up, Alexander Rossi, credited the additional power of Penske's Chevrolet engine with giving his opponent the edge over his own Honda-powered machine.  "Horsepower.  That's, unfortunately, the way it is," he said.  Adding that, "Nothing else matters here but winning," and that "today will suck for a while."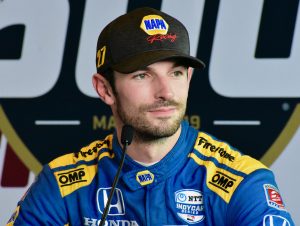 Third place was taken by the former winner, Takuma Sato, driving for Rahal Letterman Lanigan Racing.  Penske drivers Josef Newgarden and Will Power round out the top five.  Other notable performances include Indianapolis' own Ed Carpenter's sixth-place finish, and 20-year-old rookie, Santino Ferrucci, who brought his Dale Coyne entry across the yard of bricks in seventh place.  Ferrucci seems to be the obvious choice for rookie-of-the-year honors, as none of the race's four other rookies finished on the lead lap.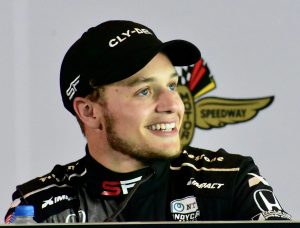 Next for the IndyCar Series are the two Streets of Detroit races, next Saturday and Sunday.  Team Penske considers that course their 'home' track but hasn't won there since 2016.
Here are the full results for the 103rd Indianapolis 500:
| | | | |
| --- | --- | --- | --- |
| Finish | Start | Car | Driver |
| 1 | 1 | 22 | Pagenaud |
| 2 | 9 | 27 | Rossi |
| 3 | 14 | 30 | Sato |
| 4 | 8 | 2 | Newgarden |
| 5 | 6 | 12 | Power |
| 6 | 2 | 20 | Carpenter |
| 7 | 23 | 19 | Ferrucci |
| 8 | 22 | 28 | Hunter-Reay |
| 9 | 16 | 14 | Kanaan |
| 10 | 11 | 25 | Daly |
| 11 | 32 | 5 | Hinchcliffe |
| 12 | 15 | 33 | Davison |
| 13 | 4 | 63 | Jones |
| 14 | 3 | 21 | Pigot |
| 15 | 24 | 4 | Leist |
| 16 | 30 | 39 | Mann |
| 17 | 18 | 9 | Dixon |
| 18 | 12 | 3 | Castroneves |
| 19 | 31 | 24 | Karam |
| 20 | 21 | 48 | Hildebrand |
| 21 | 25 | 60 | Harvey |
| 22 | 19 | 77 | Servia |
| 23 | 13 | 7 | Ericsson |
| 24 | 26 | 42 | King |
| 25 | 20 | 23 | Kimball |
| 26 | 10 | 98 | Andretti |
| 27 | 17 | 15 | Rahal |
| 28 | 29 | 10 | Rosenqvist |
| 29 | 28 | 26 | Veach |
| 30 | 7 | 18 | Bourdais |
| 31 | 33 | 32 | Kaiser |
| 32 | 27 | 81 | Hanley |
| 33 | 5 | 88 | Herta |