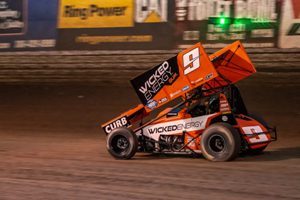 Concord, N.C.— Kasey Kahne Racing is heading home. And just in time.
The World of Outlaws NOS Energy Drink Sprint Car Series is gearing up for a busy Memorial Day weekend. The inaugural doubleheader United Rentals Patriot Nationals at The Dirt Track at Charlotte Motor Speedway will be on Friday, May 24, and Saturday, May 25, and the Memorial Day Spectacular presented by KOI Auto Parts at Lawrenceburg Speedway on Monday, May 27.
The trip back to Charlotte is a rare homecoming for the Mooresville, NC-based KKR team. It's time at home. Time with family. Time to reenergize before the busy summer schedule.
"We get to be at the shop and around family and friends," said Brad Sweet, driver of the No. 49 KKR car. "It's kind of a home-field advantage."
While Sweet has never won at the Charlotte dirt track before, he had a strong run there last year, running in the top-five all night and finishing fourth. Unlike last year, though, he'll have two chances to claim a May victory at the track this season. Now known as the United Rentals Patriot Nationals, the May race has expanded to two nights of racing with a $15,000-to-win purse both nights.
"I always look forward to going to Charlotte," Sweet said. "It's nice to have two nights during the Memorial Day weekend. It's a great setting. A lot of great fans around there. I'm looking forward to the event growing, as well."
He'll have a new teammate alongside him this year, too. Kasey Kahne was scheduled to run the two Charlotte races, but an injury from an accident at Williams Grove Speedway earlier this year has left his sidelined. To fill in for him while he heals, Kahne has tapped Australian James McFadden to drive his No. 9 car.
"Obviously, the circumstances aren't ideal, but the opportunity to drive the KKR nine (car) is always going to be a cool one," McFadden said. "It's an iconic car, and a car that's had some great drivers in it. It's definitely exciting and pretty humbling to get an opportunity like this one. For me, it is a huge tick off the bucket list."
While never a full-time driver in the Series, McFadden has one World of Outlaws win. In 2017, he beat the likes of Greg Hodnett and 10-time Series champion Donny Schatz to win at Williams Grove Speedway.
"I'd say they (the World of Outlaws) are the pinnacle of our sport, so naturally racing with them is a goal I've had for a long time," McFadden said. "I'm looking forward to the intensity that comes each time you roll out with the Outlaws. We have a chance to string together probably the most nights with the World of Outlaws that I've ever had a chance to do, so that's exciting."
He doesn't have a set schedule with the team. At the moment, McFadden said he's in the car until Kahne is good to go. Until then, he said he hopes to be able to gel with the KKR team and put consistent runs together.
Friday's race at Charlotte will be his first time seeing the track. With it being KKR's home track, he said he has confidence in the car; he just hopes he can keep up with it. Having Sweet as a teammate will help with that, too.
"It'll be cool to have a teammate at some of these tracks I've never seen before, so hopefully he'll be happy to share a few tips with me along the way," McFadden said.
While Sweet is looking forward to working with McFadden, the Grass Valley, Calif. native said whether it's Kahne or someone else, there is no more or less of a benefit to him. He just stays focused on the No. 49 car.
That focus has kept him in a tight points battle with Schatz in the early stage of the season. After 17 races, Sweet sits second in the Series' standings – 26 points behind Schatz. However, for the past few races the two have been swapping the lead, tying for it twice.
While Sweet knows that, he doesn't really want to.
"I don't really want to pay attention to points," Sweet said. "People point it out all of the time, so you kind of know where it's at, but it doesn't really matter. "I think to me it's just about getting your car where you want it. You know, consistent, good runs every night. So, when you get to those summer months when we're racing every other night, that's where the points really can shift."
The points could shift several times during the Memorial Day weekend. Schatz has won the May Charlotte race last year and Sweet won last year's Memorial Day race at Lawrenceburg Speedway – beating Schatz for the win.
"Last year we kind of hit on something and we had a great race with Donny Schatz," Sweet said about last year's race at Lawrenceburg. "I'm just looking forward to getting back there. Hopefully we can do it again. We just need to put a string of good runs together and get some momentum on our side."
For McFadden, he said he wants to make it through Charlotte first before trying to predict his performance at Lawrenceburg.
After the trip to the Indiana track, the Series' busy summer schedule begins – starting with the historic inaugural doubleheader at Nashville Fairgrounds Speedway on May 31 and June 1. To some, the summer is when the season really begins.
"This is what we do this for, are these summer months where you're really racing," Sweet said. "I'm looking forward to really trying to get some momentum on our side and some momentum going into the summer months. It's a crucial part of the season."