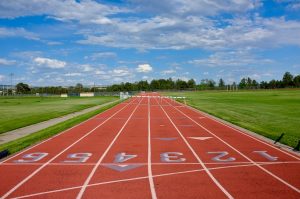 Boys Track Regionals @ Warren Central on Thursday  (5-23).
The host Warren Central Warriors capture The Boys Track Regionals. Locally, East Central places 4th; Batesville 8th; Milan 17th; Franklin County 20th; South Dearborn 22nd; and Oldenburg 31st.
Milan's Matt Riehle captures 400 Dash Title! Batesville's Adam Moster 800 Run Champion! East Central's 4 x 4 100 Relay Team of Alex Hornbach, Clayton Deitsch, Erik Perkins, and Chase Ludwig take The Regional Crown!
Congratulations to the Batesville Bulldogs who traveled to compete in the 40 team Regionals at Warren Central last night.  The Bulldogs had a strong showing and placed 8th place with Adam Moster being crowned the Regional Champion in the 800 meter run! (1:57.29) advancing him to the State competition next Friday at Indiana University in Bloomington.  Congratulations Adam!  Also scoring for the Bulldogs was Adam Bedel, who threw a personal best by over 20 feet in the discus placing him in 5th place (he was seeded 16th). Joshua Myers in the 1600m run also placed 5th from a strong field (seeded 11th). And the 4 x 800m relay team ran a personal best time of the year also finishing 5th of JJ Kuisel, Johnathon Lynch, Benjamin Moster and Adam Moster. (seeded 10th) . Way to go Bulldogs and Good Luck Adam next week at State!
The best of luck to our area athletes at The State Finals on Friday, May 31st at IU in Bloomington.