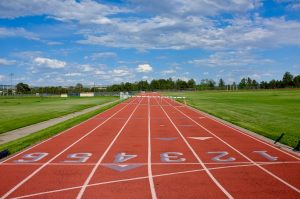 Girls Track Regionals @ Shelbyville on Tuesday  (5-21).
The Warren Central Lady Warriors capture The Girls Track Regionals at Shelbyville. Locally, East Central placed 5th; Greensburg 9th; Batesville, South Ripley, and South Dearborn 16th; and Lawrenceburg 24th.
Congratulations to South Ripley's Megan Cole on winning The 3200 Run and Greensburg's Lily Grimes on winning The Shot Put.
The girls placed 16th out of 40 teams at the track regionals last night at Shelbyville High School.  After arriving in a pour down and high winds, teams had to stay on the bus for about 30-40 minutes causing a slight delay in the start of the meet.  The temperatures dropped to below 60 and the weather conditions were not quite what everyone expected before we left.  Despite this, the Bulldogs pulled through with some good performances and had some ribbon winners.  Leading the night and receiving the first ribbons for the team were the 4 x 800m relay of Liz Loichinger, Lily Pinckley, Trysta Vierling and Katie Olsen coming in 8th.  Liz Loichinger, the 4 x 100m relay and Carley Pride all snagged the 7th spot in their races.  Liz in the 1600m run and Carley in the 400m dash.  The 4 x 100m relay team of Gabby Gibbs, Lily Meyer, Roxie Hund and Stephanie Nobbe ran a personal best time of the season to place 7th. Lily Pinckley was up next in the 3200m run and captured 8th.  Finally, the last race of the night, our 4 x 400m relay team of Katie Olsen, Liz Loichinger, Stephanie Nobbe and Carley Pride ran a personal best time of the year by 3 seconds placing them 6th.  Unfortunately, only the top 3 advance to state competition, so this ends the 2019 season for the lady Bulldogs, but overall it was a great season.  Good luck again to our seniors Stephanie Nobbe, Gabby Gibbs, Michaela Nobbe and Katie Bohman.  We have a young team with a lot returning next year and I know we will be even stronger!  Boys compete Thursday night at Warren Central.  Weather permitting, the meet will begin at 6 pm.
Courtesy of Bulldogs Coach Lisa Gausman.
The State Finals will be taking place on Saturday, June 1st at IU in Bloomington.