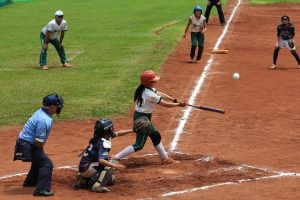 Senior Kate Burkhart's walk-off single in the bottom of the 8th inning gave the youth night crowd an exciting ending to a roller coaster game, giving the Bulldogs the win over North Decatur Friday evening,
The final home game of the season was played at the Batesville Plex for youth night – a night made to honor our youth players and to provide them with a glimpse of what high school softball is about. What was hoped to be an interesting game between two similar ball clubs to show the youth how exciting and fast paced high school softball can be turned out to be the most exciting game all your for the Bulldogs.
The Chargers took the lead in the 5th inning when, with a runner on 3rd base, a 5-3 ground out allowed a runner to advance on the throw to 1st. The Bulldogs then took the lead in the same inning when Kara Obermeyer doubled to right-center field to score Laker and Burkhart. Gerth, courtesy running for Obermeyer, then scored on a single by Oldham. On the same play – a throw home and back to second in a pick off attempt on Oldham went high off the mark and into an empty center field allowed Oldham to score.
Two outs in from the 1st three batters of the inning looked as though the Bulldogs would wake away with the win. Seven full innings of pitching, proved to be just a bit too much for a recently ill-ed Obermeyer. The next two batters walked. Then 2 wild pitches in a row allowed the Charges to charge their way back into the game. A pitching change ensued as Westerfeld took the mound from 1st base. A cold arm by Westerfeld hurled a wild pitch to score the lead run for the Chargers. A strikeout to the next batter ended the inning.
The Bulldogs tied the game in the bottom of the 7th inning after Obermeyer singled and then scored on a double by Oldham.
Senior Ellie Waechter saved a run in the top of the 8th inning when a Charger runner tried to advance home from second on a single up the middle. Waechter fielded the ball on the run, added a crow hop and hit the awaiting Belter on target for the tag at the plate to end the inning. After a Westerfeld single, freshman Sophie Lee came in as a courtesy runner. Two ground outs later, Lee moved to 3rd base with 2 outs. With an 0-2 count, Senior Kate Burkhart singled to left field to score Lee for a walk-off winning hit.
The Bulldogs move to 5-14 on the season with the win.
Courtesy of Bulldogs Coach Randy Obermeyer.