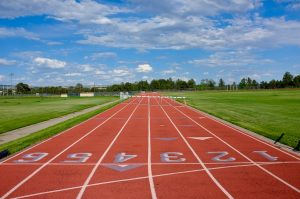 The Batesville Boys traveled to East Central last night to compete in the Sectionals and to what ended up being a VERY long night.  The weather would not stay away.  In the middle of field event competition and just as the trials were finishing, the lightening and rain came in.  After an almost 2 hour delay, competition began again.  The Bulldogs stepped up to this challenge and brought home 4 individual Sectional championships and will have 9 events competing in Regional competition next week, 7 individuals and 3 relays.  With those performances, the Dogs secured a Sectional Runner up title to a strong East Central team.  Top 5 teams of the 13 team Sectional were: East Central-164, Batesville-118.5, Franklin County-74.5, Greensburg-73.5 and Oldenburg Academy-35.
Claiming individual Sectionals Championships were: Adam Moster-800m run (1:58.25), Joshua Myers-1600m run (4:39.55), Ean Loichinger-3200m run (10:21.25) and the 4 x 800m relay of JJ Kuisel, Johnathon Lynch, Benjamin Moster and Adam Moster (8:39.65).  Sectional Runner up titles and automatically advancing to Regional competition were: Johnathon Lynch-800m run, Joshua Myers-3200m run, Kent Meyers-high jump and the 4 x 400m relay of Adam Moster, Tyler Myers, Johnathon Lynch and JJ Kuisel.  And claiming 3rd place and also automatically qualifying for Regionals are: JJ Kuisel-400m dash, Gabe Gunter-high jump, Adam Bedel-discus and the 4 x 100m relay of Isaiah Riffle, Justin Heiser, Charlie Laymon and Sam Haskamp.  Congratulations to all advancing!
Other scorers for the night and helping Batesville secure its second place finish were:
5th place finishers:
Benjamin Moster-1600m run
Tyler Myers-300m hurdles
Kent Myers-pole vault
6th place:
Sam Haskamp-200m dash
Justin Heiser-long jump
7th place finishers:
Sam Haskamp-100m dash
Zach Gutzwiller-pole vault
8th place:
Isaiah Riffle-200m dash
Despite the crazy night with the delays and weather, we did have a few personal bests for the evening and they were:
110m Hurdles: Manav Patel and Sam Robben
300m hurdles-Tyler Myers
Long Jump-Justin Heiser
Discus-Adam Bedel
And the 4 x 100m relay team: Isaiah Riffle, Justin Heiser, Charlie Laymon and Sam Haskamp.
Congratulations to all!  Next will be the Regional competition at Warren Central High School next Thursday!  Good Luck Dogs!