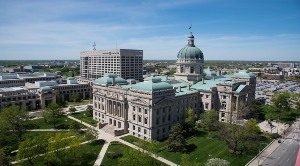 Indianapolis, In. — Republican state representative from Batesville Cindy Ziemke recently welcomed student pages to the Statehouse.
As House pages, these students toured the governor's office, the House and Senate chambers, and the Indiana Supreme Court. They also helped staff with their daily tasks and met with Ziemke to learn more about the legislative process:
"It is important to keep the younger generation engaged and interested in our government," Ziemke said. "The page program offers young Hoosiers a great opportunity to learn about the state legislature in a unique and exciting way."
Students between the ages of 13 to 18 who are interested in paging during the 2020 legislative session can learn more and sign up by clicking here. Participants receive an excused absence from school and groups can request to page together.