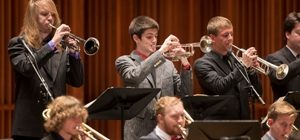 New York, NY. — The Ball State University Jazz Ensemble has been invited to perform at Dizzy's Club at the Lincoln Center for Performing Arts in New York in March 23, 2020.
The performance will be a part of the 2019-2020 season of Jazz at Lincoln Center. Led by artistic director Wynton Marsalis, The Jazz at Lincoln Center Orchestra visited Ball State last October as part of the University's Centennial Celebration. In addition to the performances, Marsalis worked with music students.
"Mr. Marsalis was extremely complimentary of our  band and stayed an extra hour to sign autographs and talk to students," said Mark Buselli, professor of music performance and director of jazz ensembles at Ball State. "Performing at Lincoln Center next year is a great way to follow Mr. Marsalis' visit.  This is a prestigious honor for the School of Music and our jazz studies program. It shows how Ball State empowers our students with a world-class education." 
In addition, this performance will be recorded for potential broadcast on Sirius XM Satellite Radio and National Public Radio.
Also called the Jazz Lab Ensemble, these Ball State musicians enjoy the reputation of being one of the best collegiate bands in the country, Buselli said, and they tour throughout the United States and Europe.
The band has performed at the Montreux Jazz Festival in Switzerland (2017); toured Poland, Prague and Berlin (2014); and China (2012). The ensemble has received numerous awards from more than 20 appearances at the Elmhurst Jazz Festival in Chicago, the Kansas City Jazz Fest, and the National Collegiate Jazz Fest in Mobile, Alabama.
For a schedule of upcoming School of Music performances, go here.