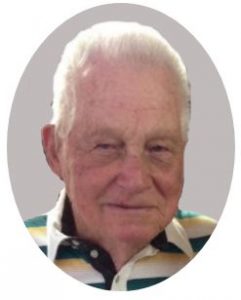 Anthony R. Dall Sr., age 88 of Morris, died Monday, May 13, 2019 at his home.  Born March 28, 1931 in New Alsace, Indiana, he is the son of Frieda (Nee: Witt) and Bernard Dall.  He married Joanna Pelzer January 15, 1955 at St. Jerome's Church in Cincinnati.  Tony served in the army during the Korean War, earning two bronze service stars.  Following the service he would work at National Lead 17 years.  He then worked a couple of years at Schmidt Bakery decorating cakes and a couple of years at Delta Faucet before starting Dall's Service, repairing appliances for 20 years.  The family mentioned that he'd been in half the houses in Batesville at one time or another.  He would finish his working career working 10 years each for St. Anthony's Church and Cricket Ridge Golf course doing maintenance.
Tony was a natural athlete.  In his 20's he played baseball, pitching two one hitters and was nicknamed the "old knuckleballer".  In his 30's and 40's he picked up bowling and had a 300 game.  Also in his 40's he started playing golf which became his passion.  He recorded four holes-in-one.  Tony coached little league as his boys grew up and then spent many years umpiring baseball and softball.  A devout man, his faith and family were always the most important aspects of his life.  A member of St. Anthony's Church, he served many years as the Labor Day picnic chairman, was a former County Commissioner as well as a member of Knights of Columbus Council #1461, Ripley County V.F.W. Post #3183 and the Prell-Bland American Legion Post #271.
Tony is survived by his wife Jo; daughters Barb (Bill) Hoots of St. Paul, Minnesota, Cecelia Taulbee of Batesville; sons Gregory (Deb) of New Richmond, Ohio, Mark (Kimberly) of Batesville, Richard (Theresa) of Cantonment, Florida, Paul (Brenda) of Greensburg, Fred (Gladys) of Morris, John of Brownsburg, Indiana, Pete (Karen) of Muncie, Indiana, Tony Jr. (Sarah) of Charlotte, North Carolina, Phil (Neira) of Indianapolis; sisters Mary Schuman and Martha Schuman, both of St. Leon, Indiana; twenty five grandchildren; twenty four great grandchildren and four great great grandchildren.  In addition to his parents, he is also preceded in death by brothers Joe, George, John, Ben and Eddie.
Visitation is Sunday, May 19th, from 1 – 4 p.m. at the Weigel Funeral Home, with a rosary service at 12:45 p.m.  Funeral services are 10 a.m. Monday, May 20th at St. Anthony's Church with Rev. Shaun Whittington officiating.  Burial will follow in the church cemetery with military graveside rites conducted by the Ripley County V.F.W. and the Prell-Bland American Legion.  The family requests memorials to the Knights of Columbus or St. Anthony's Church Haiti Mission.