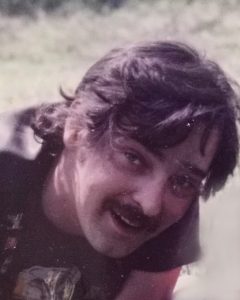 Daniel Allen Crosby, 66, of Greendale, Indiana, passed away Sunday May 12, 2019.
He was born April 10, 1953 in Cincinnati, OH, son of Glenda Irwin and the late Frank A. Crosby.
He served his country as a member of the United States Army.
Daniel was a self employed general contractor.
Daniel enjoyed arts and crafts, he was highly creative and artistic. He loved to tell stories. Daniel loved the outdoors, fishing, camping and spending time with his family. He kept his family close by keeping in touch with them on a regular basis. Daniel was also a big animal lover. He was a man of faith and he instilled it in his family as well. Daniel was a good father and grandpa and he will be greatly missed.
Daniel is survived by his children, Nikki (Michael) Klein of Milan, IN, Terry (Heather) Crosby of Lawrenceburg, IN, Amber L Crosby of Aurora, IN; his mother Glenda Irwin; wife, Tammy Crosby; siblings, Mary Hoerst, Sara Knigga and Marie Stephanolius; half brothers and sister, Jeff, Scott, Steve and Amy Crosby; several grandchildren, 1 great-grandchild.
He was preceded in death by his father, Frank A. Crosby, and a son, Adam Crosby.
A celebration of life and memorial service will be held on Thursday 5/16/19 from 4-7 pm at eldest daughters home, 7190 E. County Road 125 N, Milan Indiana.
Final resting place will be in Mt. Sinai Cemetery, next to his son Adam.
Contributions may be made to defray Funeral Expenses. If unable to attend services, please call the funeral home office at (812) 926-1450 and we will notify the family of your donation with a card.