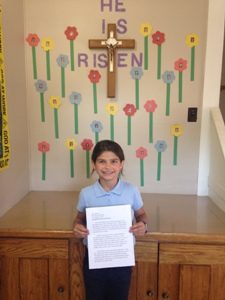 Sunman, In. — The Fourth-Grade class at St. Nicholas School participated in The Association of Indiana Counties (AIC) annual essay contest.  The focus this year was on "Ensuring the Administration of the Indiana Elections Process".
Students were asked to write about the election process in their county.
To prepare for the essay, their teacher -Mrs. Beth Schwering, instructed the class to research the election process.  In addition, the class conducted a candy bar election in which the entire school took part in.  They also had guest speaker, Mrs. Karen Davis, who spoke to them about working the election polls.
Winners were chosen from six regions of Indiana.  Lily Eckstein, St. Nicholas School 4th Grade Student and daughter of Jon and Lisa Eckstein, was chosen for our Southeast district!  She will read her essay at their district meeting on May 16, where she will receive her $100 cash prize!