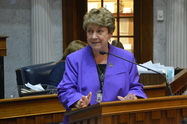 Oldenburg, In. — The Indiana General Assembly has adjourned, concluding the 2019 legislative session. Earlier this year, the Senate Republican Caucus developed our top legislative priorities. Below are the goals we set and the bills we passed to achieve them.
Maintain a balanced budget
Like all hardworking Indiana residents who balance their checkbooks, we know responsible government means making tough choices and spending within our means. The General Assembly passed a two-year state budget with strong "rainy day" reserves in order to protect our state in the event of an economic downturn. The budget also continues our strong support of education.
Protect vulnerable children 
Due in part to the drug epidemic, the Indiana Department of Child Services is struggling to keep up with the number of children needing services in our state. This session, we created measures aimed at improving services for vulnerable children and addressing the concerns of foster parents dealing with the court system. If we want more residents to become foster parents, it's important our laws do not create roadblocks that discourage them.
Support education
With more than half of the state's General Fund devoted to K-12 education, Indiana spends a higher percentage of its budget on education than all but two other states. We continued to put education first this session by increasing K-12 funding by $763 million. This increase includes an additional $539 million in tuition support, an increase in per-student funding and an increase in Teacher Appreciation Grants.
Improve school safety
Protecting schools from violence takes vigilance on the part of every Indiana resident. Legislators have worked hard to improve school safety by making changes to requirements regarding the Indiana Safe Schools Fund and Indiana Secured School Fund. One bill passed this sessionallows grants through the Indiana Secured School Fund to be used to employ a law enforcement officer.
Support workforce development 
To address Indiana's long-term skills gap, the General Assembly has implemented many workforce-development reforms in recent years. This session, we continued our efforts to improve career prospects in Indiana. One initiative we implemented aims to strengthen high school career and technical education programs, make students and teachers more aware of Indiana's in-demand careers, and reform adult job-training programs.
For more information on legislation passed this session, click here.