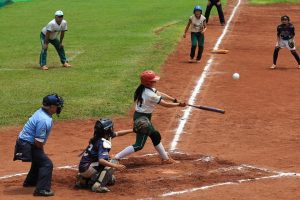 Batesville Bulldogs Varsity Softball Team lost the lead late in a 14-8 defeat to Connersville on Tuesday.
The game was tied at eight with Connersville batting in the bottom of the fifth when #9 doubled on the first pitch of the at bat, scoring two runs.
The Bulldogs collected 13 hits and Connersville had 20 in the high-scoring affair.
Connersville got things started in the first inning. #55 homered on a 2-0 count, scoring four runs. Batesville took the lead in the third inning with big hits from Ripperger, Belter, Westerfeld, and Schafer. Connersville evened things up at eight in the bottom of the fourth inning when #9 homered on a 2-0 count, scoring two runs.
The Bulldogs notched four runs in the second inning, three in the third, and one in the fourth.
#9 toed the rubber for Connersville. She went five innings, allowing eight runs on 11 hits, striking out three and walking one.
Westerfeld was on the rubber for Batesville Bulldogs Varsity. She lasted two-thirds of an inning, allowing five hits and six runs while walking one. Kara Obermeyer threw five and a third innings out of the bullpen allowing 15 hits, 2 walks, and 4 strike outs.
Kara Obermeyer (3 singles), Emma Belter (2 doubles), Kylie Laker (2 singles), and Sarah Ripperger (triple and single) all managed multiple hits for the Bulldogs. Obermeyer led the team with three hits in four at bats. Westerfeld and Schaefer tallied 2 RBIs each.
The Bulldogs fall to 3-7 on the season and 1-6 in the EIAC.
Courtesy of Bulldogs Coach Randy Obermeyer.